N4   Radial Opposed Blade Damper
N5   Radial Sliding Blade Damper
PERFAIR-CT   PERFAIR Plenum for High Performance Circular Diffusers, Top Connection
PF   Plaster Frame for Diffusers
NBD   Baffle for DF diffusers
NBI   Baffle for ISO diffusers
NTSR   Square-to-Round Transition
NTRR   Round Neck Reducer
NTSS   Square-to-Square Transition
NTSS   Transition de carré à carré
NR6MFG   R6 Molded Fiberglass Backpan
FLEXRIGHT   Radius forming brace for flexible ducts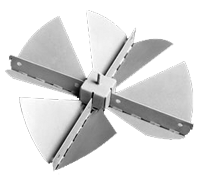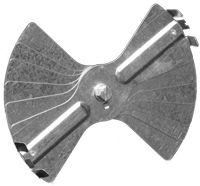 PERFAIR-CT   PERFAIR Plenum for High Performance Circular Diffusers, Top Connection
Please note that we don't supply this product anymore. PERFAIR-CT Plenum for High Performance Circular Diffusers are now supplied by EffectiV HVAC only. For more information about PERFAIR-CT, please visit EffectiV's PERFAIR-CT Page
PF   Plaster Frame for Diffusers
New exclusive and patent pending design for Airvector®'s Plaster Frame for an easier and much faster install than any other similar product on the market.
All aluminum
2 ways to install: standard or quick-tabs (Airvector® exclusive).
See how Airvector®'s Plaster Frame can save you a lot of time and money!
Exclusive design!
Very efficient, the NBI baffle completely blocks one direction by being installed on the outlet instead of in the neck.
Can combine to block air directions to provide 1-way, 2-way adjacent or opposed and 3-way air patterns.
Easy to install in a few seconds.
Available for 12″ x 12″ and 24″ x 24″ Plaque Diffusers (ISO).
See how Airvector®'s NBI is easy to install and remove!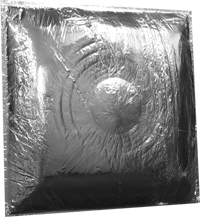 FLEXRIGHT   Radius forming brace for flexible ducts
FEATURES
Forms efficient 90 degree elbows.
One-Size-Fits-All: adjustable hands conform to fit flexible duct Sizes 4″ – 16″. (102mm – 406mm)
Eliminates flex duct kinks and restrictions.
Improves airflow, saves energy
Can be installed on new or existing flexible ducts.
Equally great for residential and commercial applications.
U.L. listed.
Green product made of 100% recycled materials.