Architectural Linear Slot Returns
Series ALS Linear Slot Returns are designed for installation in the ceiling, sidewall or sill and are recommended for exhausting heated, ventilated or cooled room air. Its clean architectural look makes the ALS Return a very polyvalent product that blends virtually in any room.
GENERAL FEATURES
Matching ALS slot diffusers series.
Extruded aluminum construction.
Available for surface mount or T-bar lay-in.
Three slot sizes (1/2″, 3/4″ or 1″ width), 1 to 10 slots.
Ideal for VAV systems.
Powder paint coating – White (other colors available upon request).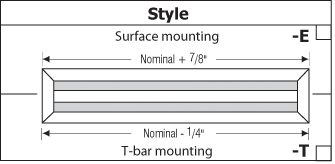 Description